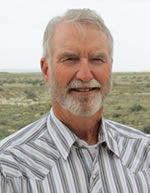 Frank G. Eathorne, Jr.
Chairman
Board member since 1999

Bio: Frank has ranched on the family ranch for over 50 years and has been involved with local organizations for much of that time. He has been active in the local Farm Bureau, served as vice president for the WY Farm Bureau Federation, was a county commissioner for seven years, and currently chairs the board of a local grazing association. He has been on the board of the Association since its inception.
Growing up on a ranch and then as a young rancher, Frank says he thought mostly about the livestock. "But over time, I have come to appreciate the need for conservation. Unless we manage our resources wisely, one can cause damage that may be difficult or impossible to repair."
Of the association's origin and accomplishments, he reflects, "We were just some ranchers brainstorming, trying to come up with ways to deal proactively with the Endangered Species Act and possible listings. We realized that we would have more ability to influence outcomes if we worked as a group. Over time and with professional help, we realized that the CCAA provisions in the Endangered Species Act offer land owners a great opportunity. Although we did not realize how time consuming and complicated the process of crafting this Strategy would be, I'm glad we were able to hang in there and, eventually, come up with something that is truly worthwhile."
In his free time, Frank enjoys flying small airplanes, a hobby he developed as a result of military flight training.
---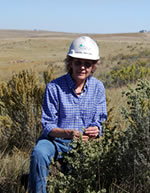 Laurel Vicklund
Vice Chairman
Board member since 2014

Bio: Laurel has recently retired as a Sr. Environmental Scientist for Peabody Energy in the Powder River Basin of Wyoming. She has worked on reclaiming mined lands, permitting, and regulatory affairs for over 25 years. She has assisted with various reclamation studies and co-authored journal articles and conference proceedings. She received her BS with major concentration in soils from Colorado State University.
Regarding her participation in the Association, Laurel reflects, "I have not seen the level of collaboration in other working groups that the Thunder Basin Grasslands Prairie Ecosystem Association offers from a unique combination of private land owners, industry and federal agencies. The comprehensive conservation plans and results from TBGPEA's collaboration have exceeded what any one person or agency could have developed. It is inspiring to be a part of this kind of conservation."
When she is not working, Laurel enjoys wood working, hunting and assisting her husband, Olin Oedekoven, with the out-of-country portion of his business.
---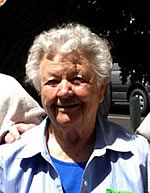 Jewell Reed
Treasurer
Board member since 1999

Bio: Jewell brings a lifetime of ranching experience to the Association, and has served as treasurer since its founding. She grew up on her parents' homestead in the Thunder Basin and still lives in the same community. Her great grandchildren are now the fourth generation living on the ranch she and her husband Earl bought soon after they were married. The family has always been involved in community activities such as 4-H, Homemakers, Farm Bureau, Wool Growers, and the Wyoming State Fair. They take pride in their cattle, sheep, and wool.
Jewell believes in a balance between domestic livestock and wildlife, and feels that the Association helps both ranching and wildlife to thrive by promoting proper usage of local resources. She is excited about the knowledge gained through the Association's monitoring efforts, and is pleased that this information is available to the public through the website, friendly conversations, and other avenues. "We know that mining and ranching can coexist," she says. "The coal mines have proven that land can be reclaimed to its former state—or better. The next big challenge is oil and gas development. Our hope is that with education, patience, work, and good will, that too can become a plus."
---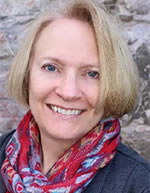 Wanda Burget
Director
Board member 2002 - 2013, & 2016 - present

Bio: Wanda is a native Wyomingite whose background incorporates a ranching heritage with a longtime career in the Wyoming mining industry. She is a co-owner and principal of Accord Resource Solutions, LLC, a woman-owned natural resource-based consultancy based in Wyoming and serves as the Executive Director of the Wyoming Mining Natural Resource Foundation, which is currently managing a large landscape-scale conservation effort created to benefit the greater sage-grouse which was initiated by the trona/soda ash industry in southwestern Wyoming.
Prior to these efforts, Wanda served as the Vice President of Environmental Services for Norwest Corporation and spent 29 years with Peabody Energy Corporation where she served as Director of Sustainable Development, environmental lead for federal coal leasing efforts, and as a member of Peabody's international project support team, among other responsibilities.
Her years of work leading and promoting environmental stewardship, sustainable development, project management, community outreach and stakeholder relations have provided her a substantial portfolio of experience and industry knowledge – not only within the mining industry, but with the energy and agricultural industries as well. She has a solid record of effective engagement in industry, stakeholder and community issues and has held positions of leadership and responsibility in numerous local, state, regional and national workgroups and coalitions comprising a broad and diverse cross-section of stakeholders.
---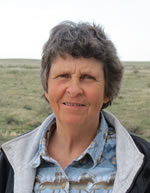 Lona Nachtman
Director
Board member since 1999
Bio: Lona is a third generation rancher: "I've been ranching all my life," she says. "I've been blessed to live my life within God's creation." She also maintains and manages the weather station that has been located on her family's ranch for 80 years, providing an important and rare source of weather data for the Thunder Basin region. Lona has a special interest in the local animal species, especially raptors, and has enjoyed working with other ranchers to deepen her understanding of animal behaviors.
Of the importance of conservation in agriculture, Lona says, "The species are here and we're here, both existing together. It's been working, and it is important to keep it working. Whenever we can improve the land or the situation for the animals, I think we should."
When not ranching, Lona enjoys woodworking, fishing, and spending time with her dogs.
---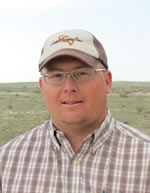 John Riehle
Director
Board member since 2013
Bio: John joined the Association Board in 2013 and offers perspectives and insights unique to the next generation of Wyoming ranchers. He has an Ag Business degree from the University of Wyoming, is on the board of a local grazing association, and has been ranching for 20 years on land that has been in his family for four generations.

John is interested in learning new information as well as sharing what he knows, and finds value in experimenting to see how various approaches might help the environment. "I believe it is important for people from agriculture and other industries to with work with conservation experts to come up with good solutions to local problems," he says.
---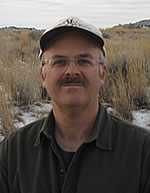 Dave Pellatz
Executive Director | Conservation Coordinator
Bio: Dave grew up on a cattle/sheep and working guest ranch in northeastern Wyoming. After receiving BS degrees in petroleum and geological engineering from New Mexico Tech, he spent 10 years doing business development and project management for Conoco. In 1994, a desire to return to his Wyoming roots led him to start his own consulting business, Renaissance Services.
Dave began working for the Association as their project manager in 2007 and has served as the Executive Director | Conservation Coordinator since 2013. In addition to his work with the Association, he has served as range manager for the Thunder Basin Grazing Association since 2007, supervising water development and grazing management on Forest Service lands in the southern portion of the Thunder Basin region of Wyoming.
In December 2014, Dave completed a Masters of Natural Resources Stewardship degree through Colorado State University. In his spare time, Dave enjoys collecting antiques, rock hunting, and spending time with his wife and children.