The Challenge
Sagebrush and shortgrass prairie habitats are becoming increasing degraded and fragmented due to multiple influences. These include direct conversion to cropland, urbanization, infrastructure development (roads, power lines, etc.), damage from wildfires, invasion by non-native plants and animals, inappropriate grazing management, and the development of both non-renewable energy (coal, oil, natural gas) and renewable energy sources (wind farms).


The Strategy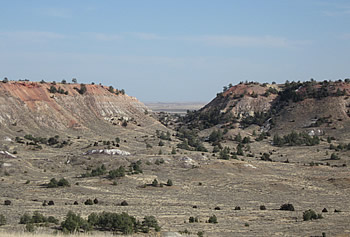 Because of the mixed surface and sub-surface ownership of this region, and in light of the multiple uses for which it is valued, the Association recognizes that effective conservation requires consistent and compatible management across federal, private, and state properties. The Association's conservation Strategy offers property owners—including livestock/agricultural producers, energy companies, and government agencies—an opportunity to voluntarily identify and implement coordinated and collaborative conservation measures on the lands they control. This incentives-based strategy is designed to purposefully focus conservation efforts in the areas within the region where they are most likely to be of durable conservation benefit. To achieve this, Association members are invited to enroll properties they own or lease into three inter-related programs.
Private property can be enrolled into the Candidate Conservation Agreement with Assurances. Property with a federal nexus (federal surface ownership or lands for which a federal lease, contract or permit is held) can be enrolled in the Candidate Conservation Agreement. Lands associated with foreseeable future development of energy resources (i.e. lands designated for future coal mining or similar oil and gas areas) can be covered by the Conservation Agreement. This over-arching approach will allow for much greater consistency and strategic focus across the landscape. For example, a rancher with privately owned lands and a federal grazing lease would implement consistent conservation measures across both CCAA and CCA properties. Similarly, an energy company would be able to integrate management across both private lands and federal leases.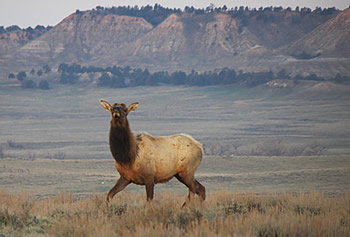 Participating members will select and implement conservation measures that address identified threats to the species within their enrolled acres, with an emphasis on measures that address habitat fragmentation and destruction. Required conservation measures are determined in proportion to the number of enrolled acres. The Association will work with members to ensure that measures implemented are balanced appropriately between the two ecotypes under conservation.
In order to maximize the conservation benefits this program, members may direct their conservation measures to properties other than their own. For example, coal mines may enroll properties scheduled for future coal production but direct their conservation efforts to improve and protect habitats on other lands, thus providing strategic, long term benefits for the covered species where it will do the most good.
In return for their participation in this conservation strategy, enrolled members receive significant assurances (CCAA) or certainty (CCA or CA) that the conservation measures they have voluntarily agreed to employ will be deemed sufficient if one of the covered species is listed as endangered, and that additional land use restrictions will not be required.